If you have a question and don't see the answer here, please reach out to us.
How do you choose when you receive multiple applications?
We process applications in the order they're received. If you like one of our rentals and want to apply, it's best to get your application in as soon as possible.
Once approved, we require a deposit and the lease signed to remove the property from the market. Once those two things have been received, we do not continue processing applications for the property.
What is best method of communication during the application process?
Once you have submitted your application, we prefer that you contact us via our texting number (251) 862-1734. We will only communicate with one applicant in your party or family. You can also call us at (619) 475-2470
Will you hold the property for me?
Brennan and Associates Inc. understands that when you find something that you like, you want to hold it. If that is the case, here is what we require:
You must submit a valid application.
You must pay the holding deposit.
What if I don't meet your requirements for approval?
We have our rental approval criteria in place for a reason and want to make sure that tenants we approve can afford to rent the homes we manage that they apply for and will be good tenants. We do not make exceptions to our rental criteria. If your circumstances change (e.g. your income is higher or you apply with someone who helps boost your application), then we're happy to review the application again.
How long will you hold a property?
It depends on the property, level of interest, and time of year but usually no longer than two weeks. 
To hold a property, the following must be complete.
You must submit a valid application.
You must pay the holding deposit.
Will there be any painting or repairs done before I move in?
Typically, what you see is what you get and the property that's being shown has had work and cleaning done. If you feel that something additional is needed, reach out and we'll see if it's something we can do.
How do I apply for a rental?
Visit our rentals page and click the "Apply Now" button from the property you want.
How long will it take to process my application
If you do not receive a prompt email or phone call after you submit an application, it may be because there are already pending applications on the property, or if the property has already rented, or if the application requirements/instructions were not followed. Incomplete applications will not be processed.
If you want to secure you are first in line, you can pay the deposit and sign a holding deposit form. If you are first in line, your application will take 3-5 business days.
Is the rent negotiable?
No, our rental prices are set at market rents.
Why can't the owner pay for the utilities?
Not every tenant or family uses the same amount of utilities. If the property owner were to pay utilities, they would have to increase the rent based on an average over a number of years. That just wouldn't be fair. Therefore, the tenant's pay their own utilities. If they are conservative, they pay less, if they are a family of five or more, they probably pay more. It's just the fairest way to handle it.
When will I hear from you once I turn my application in to your office?
If you do not receive a prompt email or phone call after you submit an application, it may be because there are already pending applications on the property, or if the property has already rented, or if the application requirements/instructions were not followed.
If you want to secure you are first in line, you can pay the holding deposit and sign a holding deposit disclosure. If you are first in line, your application will take 3-5 business days
How do I get help with a Maintenance issue?
For faster service, please submit your maintenance request online. Please utilize the maintenance FAQs and troubleshooting guide before submitting your maintenance request.
What am I responsible for maintaining?
Please visit our maintenance page for for this and all maintenance/repair related issues
My garbage disposals clogged.
Please visit our maintenance page for for this and all maintenance/repair related issues
I may have stained the carpet, what now?
Call a professional carpet clearner right away. We also have professional carpet cleaning vendors who we can refer you to. Please give maintenance a call.
What happens if only one roommate wants to move out?
Please call or email our office.
What happens if my roommate cannot pay his portion of the rent?
We look at the tenants as a whole and not as individuals so if your roommate does not pay rent and you do, then your rent will be considered late if we do not receive it in full by the end of the five-day grace period.
How do I take someone off the lease?
Any changes to the rental contract must be in writing and are susceptible to a fee. If you have someone who has moved out, it might be in your best interest to keep that person on the lease, as that tenant remains as responsible for the rent payments as you are. However, if a tenant has moved out or is in the process of moving out, we simply need something in writing on our roommate release request. If the remaining tenants qualify on their own, we will gladly make the change. If they don't it may keep the vacating tenant on the lease until it terminates. Please contact us at rentals@brennanpm.com for these requests.
My lease expiration is coming and I want to move out. What do I do?
Please make sure you submit your 30 day written notice via your tenant portal or send en email to rentals@brennanpm.com no less than 30 days before the end of your rental agreement. If you turn in your notice less than 30 days from the end of your rental agreement, you will have auto-renewed your rental agreement.
Can we submit multiple payments for the monthly rent?
We require the rent as one payment for each property. We recommend that everyone contributing to the payment transfer their funds to one person who makes the payment monthly.
When is my rent due, what happens if we pay late?
Rent is due on the 1st day of each month and is considered late at 5PM on the 5th day of the month.
If you are going to have issues one month paying your rent in full, reach out to us to see what additional options you have. It is important that you reach out to the property manager to maintain communication with the property owner.
Can we pay by credit card?
Yes, though your tenant portal you can send payments by credit card for a small additional fee that is charged by the credit card company.
Can I do auto-pay through your website?
Online payments can be set up for one time or continual credit card payments as well as one-time or continual auto debits from your checking account. Please login to your Appfolio tenant portal account in order to set this up.
Do we have full access to the community/HOA services as a tenant?
Yes. You'll enjoy the same benefits as the owner of the property would.
Who pays the HOA fees?
The property owner pays the Homeowners Association dues. However, it is very common for the Homeowners Association to send statements and other important notices to the rental address. If you receive such notices, please forward them to our office immediately.
I am getting a new roommate do they have to apply?
Any additional occupants that are 18 years and older, must submit an application to be approved. Brennan and Associates Inc. does this for your safety. We will conduct a full tenant screening. Neither you or us want you to inadvertently choose a roommate that may harm you or the property and can't pay their rent. If the results of the screening are acceptable, we can email you the documentation that needs signed. A fee to add or change roommates may apply. Please contact rentals@brennanpm.com or call (619) 475-2470 and Leasing will assist you in the proper procedure.
I have given my 30-day notice, but I need an extra week to move out. What do I need to do?
Please email us at rentals@brennanpm.com or call (619) 475-2470 to make sure that we have not selected new tenants. If not, then you must submit a written request with a specific holdover date. Once such a request is received, you will receive notification that the extension has been accepted or denied. You will be required to maintain the property and all utilities during the lease holdover period.
When do I get my deposit back?
Per the rental agreement, your deposit will be refunded less any cleaning and damages, within 21 days of the time you vacated the property. If you fail to give proper notice and a forwarding address, your deposit will be mailed to your rental address with instructions to please forward. You can speed this up by providing copies of your closing utility bills with $0 balance.
Can I use my security deposit as the last months rent?
No, the security deposit is to cover any cleaning or damages to the property, or delinquencies and cannot be used for other reasons.
Do I need renters insurance?
All tenants are required to obtain coverage for $100k in liability insurance. Tenant Liability Insurance simply waives your obligation to compensate the property owner for accidental, resident-generated claims.
I have a maintenance request
Submit your maintenance request online via you tenant protal. Please utilize the maintenance FAQs and troubleshooting guide before submitting your maintenance request to avoid being charged for maintnenace items that are a tenant responsibility.
How long will a repair take once I submit a request?
It depends on the repair. If the repair is an emergency that makes the property uninhabitable or is causing ongoing damage, we typically have a vendor out within a few hours. If the repair is routine and not an emergency, it depends on what you schedule with the vendor. Repairs are not always fixed during the first visit as vendors may need authorization or additional parts.
Who are my utility companies, how do I transfer?
For water visit SD County Water Authority, put in your Address. Then contact your local water utility to transfer.
For gas and electric, it will always be SDG&E, if you are in San Diego County.
For trash, there are several companies that service San Diego County. First check your trash or recycling bin(s) for company contact information. If contact information is not available, please see below.
Can I do the repair myself and get reimbursed?
No. You cannot do work on the property without authorization from us. Tenants are not usually qualified or insured and can cause additional damage that ends up costing more to fix.
Will someone from the management company meet vendors for us?
Meeting vendors at your rental property is your responsibility. If there are no other options then we will meet the vendor, there will be fee charged to you that will vary depending on how long someone needs to be at the property.
Anyone over the age of 18 can meet the vendor at your home so you can ask a friend or family member to be there if you cannot be. Usually, this is only in emergency cases since routine maintenance can be scheduled around your schedule.
WATER LEAK, How to turn off main water supply?
Locate the cutoff valve closest to the fixture.
Most fixtures will have an individual shut-off located beneath the fixture. It will likely be a chrome valve. Sinks and showers may have two valves, one for hot and one for cold. Turn both these valves clockwise until valve is closed.
· Some appliances, such as washing machines, dish washers, and refrigerators, may have a water shut off switch on the body of the appliance or on the hose connecting the appliance to the wall.
· To find the shut off for a water heater, look for a water cutoff valve directly above the heater on a connected pipe.
Identify the main shut off valve.
This is usually a brass valve that has a round handle. In most homes, it is located near the main water pipe leading into your home. Common locations for this pipe include garages, basements, crawl spaces, or a utility room. FRPM will provide this location before a new tenant moves into a vacant property.
Always shut off the valve that's closest to the inside plumbing, as opposed to the valve that's closer to the street.
I lost power or need to reset the circuit breaker
A circuit breaker provides protection by stopping the flow of electricity if an overload or fault occurs. When an electrical fault occurs or the load on your circuit becomes too great, the breaker on that circuit trips and interrupts the flow of current to that circuit. A tripped circuit breaker is still sometimes referred to as a "blown fuse" in reference to the older technology that circuit breakers replaced.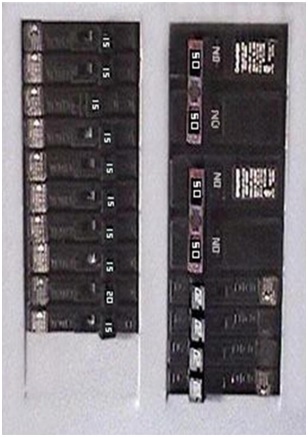 Before electricity can be restored, the circuit breaker must be reset. However, even before you do that, you must take steps to ensure that it is safe to do so. Turn off or unplug all of the devices that are plugged into the circuit. Make certain no dangerous condition exists before restoring power. A Circuit Breaker which has been tripped will either be in the middle or "OFF" position. Locate the tripped circuit breaker and reset it by pushing it all the way to the "OFF" position and then back to the "ON" position. Often when you can't cannot reset the circuit breaker, it is because it must be turned all the way to the "Off" position first.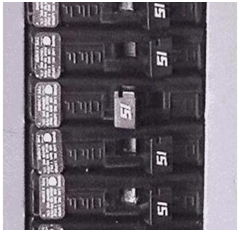 Electricity should now be restored to the circuit. If the circuit breaker trips again before you have turned anything on or plugged anything in, please submit a maintenance request immediately.
If no circuit breakers were tripped and you still do not have power at an outlet, the circuit is probably on a GFCI (See I lost power to the bathroom, kitchen, or outside).
I lost power to the bathroom, kitchen, or outside
GFCI (Ground Fault Circuit Interrupter) outlet is a device that adds a greater level of safety by reducing the risk of electric shock in locations such as bathrooms, kitchens, laundry rooms and outdoors.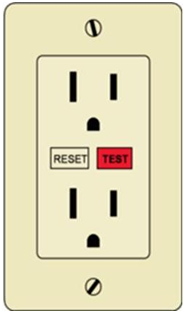 A GFCI outlet may be wired in a branch circuit, which means other outlets and electrical devices may share the same circuit and breaker (or fuse). When a properly wired GFCI trips, the other devices down the line from it will also lose power. Note that devices on the circuit that come before the GFCI are not protected and are not affected when the GFCI is tripped.
If you have an outlet that doesn't work, and the breaker is not tripped, look for a GFCI outlet which may have tripped. The non-working outlet may be down line from a GFCI outlet. Note that the affected outlets may not be located near the GFCI outlet, they may be several rooms away or even on a different floor. Pressing the "Reset" will restore the circuit. If the outlet doesn't reset, then whichever appliance that is causing it to trip, may still be plugged in. If after unplugging everything, checking the circuit breaker or fuse, and resetting the GFCI does not work, please submit a maintenance request right away.
Troubleshooting garbage disposal issues
Follow this link to troubleshoot various issues: https://www.hometips.com/repair-fix/garbage-disposal-problems.html
Disposal not working, no noise:

Use the disposal's reset button on the underside.
Check for a blown fuse or tripped circuit breaker.
If plug-in type, check GFI outlet. See "I lost power to bathroom, kitchen, or outside" on our Maintenance FAQ list above.

Disposal hums or is jammed:

See "How to unjam my garbage disposal". https://www.youtube.com/watch?v=J0OByRuoYM0

Disposal grinds poorly:

Make sure you're running enough water while operating, and that you're not grinding materials you shouldn't.
Do not grind overly fibrous materials, bones, or coffee grounds or such materials as glass, metal, or rubber. If these items are used in your garbage disposal, they can be cleared by a tech, but it will be at the tenant's charge.
If you can hear the disposal running but not grinding, the blades may be broken. Please submit a work order.
What do I do if I smell gas in the house?
If you suspect a natural gas leak, here's what you should do:
Immediately evacuate the area.

From a safe location, call 911 or call SDG&E at 1-800-611-7343, 24 hours a day, seven days a week.

Remain calm.

Don't smoke, or light a match, candle or other flame.
Don't turn electric appliances or lights on or off, operate machinery, or use any device that could cause a spark. Note that gas leaking from a plastic pipe can create static electricity that can ignite the gas.
After this, please call maintenance at (619) 475-2470
How do I light the pilot light on a water heater or furnace?
The gas utility company will light for free and inspect natural gas appliances for safety. You can schedule online at SDGE.com or call SDG&E at 1-800-611-7343. If SDG&E confirms the gas supply is in working order and is unable to light a pilot light, submit a maintenance request. We will ask if you have contacted SDG&E prior to dispatching a vendor.
How to unclog my drain
The best ways to unclog drains can be done with common household items, such as hot water, or a mixture of vinegar and baking soda. You can also use a zip strip, which can be purchased at any home goods store if you weren't provided one at move in. Do not use products like Draino, as they are corrosive to older pipes with repeated use. You can also follow the tutorials below:
How to unclog a drain (includes using a zip strip and hot water, vinegar, and baking soda)
Garage Door Issues?
If your garage door isn't closing all the way, you may have a problem with the alignment of the sensors at the bottom corners of the garage door. This may occur if anyone has accidentally bumped into them. For a video of how to properly align your garage door, go to this link: https://www.youtube.com/watch?v=gHIytLm0iAU